Santa Monica Employment Attorney
There are several legal protections afforded to every employee in the country. Everyone has the right to feel safe in their work environment. They should also have a workplace free of harassment, discrimination, or other illegal practices.
There are several ways that disputes can happen between an employee and their employer. Sometimes, these problems can be resolved internally. For others, the problem is more severe or is not being handled correctly by the company. Dealing with an unsafe, discriminatory, harassing, or hostile work environment can cause excessive stress, both personally and professionally.
You have the right to file a claim against your employer if they are violating your workers' rights. Hiring legal representation can give you the best chance of receiving compensation in Santa Monica, CA.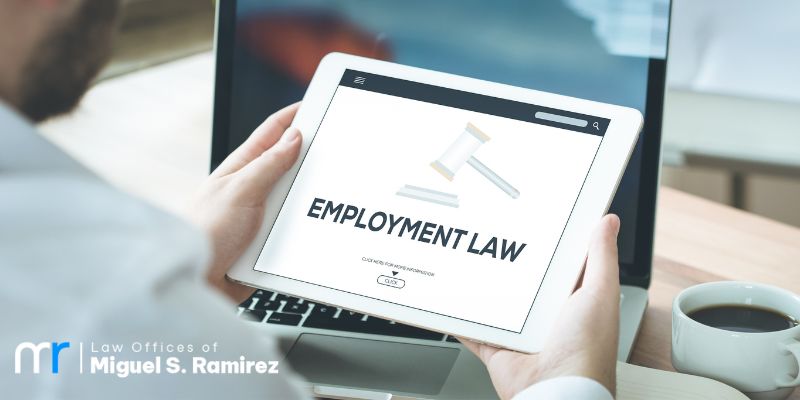 The Law Offices of Miguel S. Ramirez: Your Santa Monica Employment Lawyer
When you are faced with discrimination, wrongful termination, harassment, retaliation, or other illegal work practices, it can be overwhelming. However, a qualified Santa Monica employment attorney can make the claims process much simpler.
The Law Offices of Miguel S. Ramirez offer the legal representation and guidance you need. Our firm has been handling employment claims for twenty years. We can determine where you need to file your claim and what avenues are the best option for your situation. Unfortunately, employers will frequently fight against you to conceal their illegal behavior. We can help you understand the circumstances and options for your claim. We can also help you find the necessary proof to get you the compensation you deserve.
How Can an Employment Attorney Help Me?
Although you can file a claim without an attorney, it is much more difficult and complicated to do so. Often, employees are worried about the retaliation they may face if they file a claim. Employment is your livelihood, and the fear of losing that makes it hard for many to come forward. Situations involving harassment and discrimination can make you feel powerless, as can losing your job for an illegal reason.
No matter your situation, you can feel more confident in your approach when you have legal counsel. Not only are employment lawyers experts in the type of situation you face, but they can also handle the complexities of the case. This gives you time to take care of your life and work. A lawyer can also advise you on how to best protect yourself from retaliation. They can provide you with support through the claim process and for your entire case.
The Law Offices of Miguel S. Ramirez believes in individual guidance and ensuring personalized care for each situation. We have experience with many types of employment cases and know the best options for your case. We can:
Help you navigate the process of drafting a claim.
File your claim with the proper agency or agencies.
Determine what damages you may be eligible to receive.
Help you find the necessary evidence for your claim.
For your Santa Monica employment dispute, you need effective and compassionate legal counsel.
Types of Employment Cases We Handle
Employment cases vary greatly, and you should seek the advice of an attorney with relevant experience for your situation. Such an attorney will base their approach to your case on reliable knowledge from previous cases. At the Law Offices of Miguel S. Ramirez, we have successfully represented clients across several types of employment claims, including:
Wage and Hour Disputes When you do your job, you expect to be paid according to your time. California has strict wage and hour laws, most of which apply to every industry. These laws differ from federal laws, which can sometimes lead employers to use them to pay their employees less. You have a right to the paycheck you deserve. Wage and hour disputes could include failure to pay you for overtime work, deducting pay for illegal reasons, or not providing you with a verifiable paystub.
Workplace Discrimination It is illegal for employers to make employment decisions for employees or candidates based on personal or protected traits. These include race, gender, sex, national origin, ethnicity, skin color, age, and religion, among others. Discrimination is illegal, and employers are legally obligated to uphold anti-discrimination rules and procedures. Workplace discrimination can cost you a job you applied for, a job you held, a promotion, or cause you other losses. If this happened to you, your attorney may advise you to file with the Equal Employment Opportunity Commission (EEOC) to hold your employer accountable.
Americans With Disabilities Act (ADA) Violations The ADA is a policy enforced by the EEOC. It prohibits employers from discriminating against employees or potential hires with disabilities if the employee can perform their job with reasonable accommodations. If an employer fails to make those accommodations, or refuses to hire a person to avoid making those accommodations, they have violated the ADA. Reasonable accommodations include accessible workspaces and buildings or additions to equipment to assist with a disability.
Harassment and Sexual Harassment Employees have the right to a safe workplace that is free of all types of harassment, including sexual harassment. Unfortunately, sexual harassment is a common type of workplace harassment. It is based on harassment or sexual jokes regarding a person's gender, sex, or sexual orientation. If you are not sure whether your situation constitutes sexual harassment or other types of harassment, talk with a Santa Monica employment attorney.
Whistleblower Retaliation A whistleblower acts to report corruption, illegal activity, or unethical practices in good faith in their workplace. All employees have the right to act as whistleblowers in the workplace, and employers are not allowed to retaliate against them. This includes retaliation via wrongful termination. As a whistleblower, you have options for protection.
Disputes Regarding the Family and Medical Leave Act (FMLA) The FMLA is meant to provide employees with security and flexibility for medical leave. If an employee needs to take time off work to handle medical complications for themselves or a loved one, the FMLA gives them that time. If your employer denies a request made in good faith, or fires you for taking that time off, you can hold them accountable.
Wrongful Termination California employment is "at will." This means that both employers and employees can end an employee's work relationship at any time, without prior notice or cause. However, employers are not allowed to fire you for illegal reasons, including discriminatory reasons. If you believe your employer has fired you out of discrimination, or for another illegal reason like retaliation, you may have a wrongful termination case.
The Law Offices of Miguel S. Ramirez can represent and assist you if you believe your employment experience requires legal action.
Filing an Employment Claim
Employment claims often need to be filed with the EEOC. This is a potentially complex process that determines if you have the right to file a legal claim. You want to be sure the claim you file has all the necessary information about your situation. A Santa Monica employment lawyer can help you file this claim quickly and accurately. They can also handle communications with the EEOC.
FAQs About Santa Monica, CA Employment Law
How much does an employment lawyer cost in Santa Monica, California?
Attorneys generally bill based on an hourly rate, though some work on contingency. The cost of an employment lawyer could range from $100 to $500 an hour, depending on their level of knowledge and years of experience. The more complex your case is, the longer it will take, and therefore the more expensive it will become. At the Law Offices of Miguel S. Ramirez, we can provide you with an estimate for your claim in your individual situation.
Should I tell HR I'm getting a lawyer?
It vastly depends on your circumstances, your HR department, and how much you want to preserve the relationship between you and your employers. If you know that your HR department will do nothing with your complaint, filing one may strengthen your legal claim. Explaining to HR or your employer that you are getting a lawyer involved may allow them to be less surprised when they are contacted by your attorney. However, it may make the situation more tense and contentious. An attorney can help you determine the best course of action.
What questions should I ask an employment lawyer?
Common questions to ask your employment attorney include:
Are you the attorney who will be handling my case?
How much of your firm is dedicated to employment law?
Have you handled cases like mine? What were the results?
When and how do you communicate with clients?
What is your experience with employment law?
How and when can I contact you with questions?
These questions can help you determine if this will be a useful client-attorney relationship for your claim.
Is it better to hire a local attorney?
When you hire an attorney who lives and works in the community you live in, there are several benefits. Your attorney will have connections in the area and will have developed relationships with other attorneys, law firms, and judges. In an employment law case, a local attorney likely knows the EEOC representatives who will be handling your claim. They can also know how to best tailor your claim for success.
Let Our Employment Attorneys Help
The Law Offices of Miguel S. Ramirez can use our years of experience to help you gain compensation for lost income, benefits, and other damages. Contact our firm today.