Santa Monica Failure to Accommodate Attorney
Many American workers struggle with disabilities that make it harder for them to work and earn income. Others have specific medical or religious needs that will require some employer accommodation. An employer is legally required to make such reasonable accommodations, and failure to do so can lead to severe legal penalties. A Santa Monica failure to accommodate lawyer is the ideal resource to consult if you have experienced any such mistreatment at work.
Employers are legally obligated to properly respond to all accommodation requests from job applicants and employees. If they cannot provide reasonable accommodations, they must provide a clear explanation as to why, explaining how it would create undue hardship. Otherwise, they face legal recourse from adversely affected applicants and employees.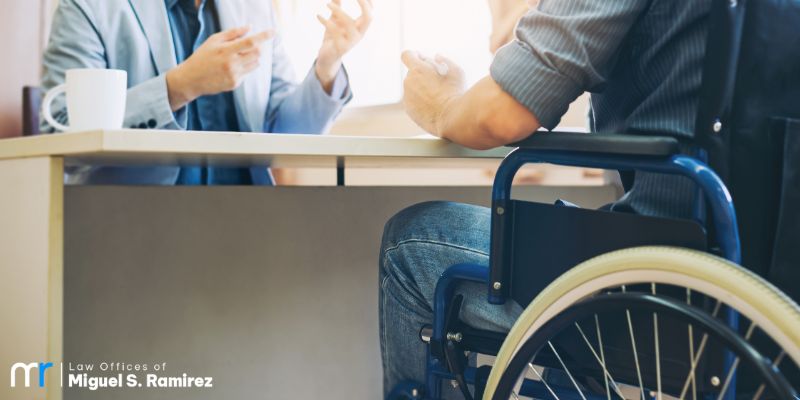 Representing Failure to Accommodate Claims in Santa Monica
An experienced Santa Monica employment attorney is an invaluable asset, no matter what your case entails. Addressing failure to accommodate can involve state or federal agencies such as the California Department of Fair Employment and Housing (DFEH) or the Equal Employment Opportunity Commission (EEOC), and your employer can help you engage with these agencies effectively in your case.
The team at the Law Offices of Miguel S. Ramirez has years of professional experience handling a wide range of complex employment cases, including those that pertain to violations of the Americans with Disabilities Act (ADA). This law requires employers throughout the country to make reasonable accommodations for employees with medical conditions and disabilities. Similarly, employees are required to accommodate certain religious practices.
An experienced Santa Monica failure to accommodate attorney can potentially help compel your employer to make the adjustments to your workplace and/or schedule necessary for you to do your job without undue hardship. While most employers take reasonable accommodation requests seriously and respond in good faith, others do not, prompting difficult legal proceedings for everyone involved.
When you choose the Law Offices of Miguel S. Ramirez to handle your failure to accommodate claim, you are investing in a legal advocate who can provide responsive counsel and guidance through all stages of your impending case. Our team has the professional resources, skills, and experience necessary to resolve the most challenging discrimination claims, including those pertaining to failures to accommodate reasonable requests to account for employee disabilities.
Understanding Reasonable Accommodation Requests
It is important for all employees with disabilities to understand the difference between a reasonable and an unreasonable accommodation request. A request for accommodation is considered reasonable as long as it does not present an undue hardship on the employer or a direct threat to their ability to run their business.
The ADA defines a reasonable accommodation as a change to:
The application and/or hiring process.
The way a job is performed.
The specific tasks included in a job description.
The employee's work environment.
The requested change should enable the employee making the request to complete their job duties effectively and enjoy equal employment opportunities. An individual qualifies as disabled under the ADA if they have one or more physical or mental impairments that substantially limit their ability to perform major life activities, such as working and earning income.
If an employee's disability is not obvious to an employer, the employer has the right to request documentation from the employee's healthcare provider to confirm their need for a reasonable accommodation. In order to qualify for a reasonable accommodation, the employee must be qualified to perform their essential job functions.
A few examples of what are commonly considered reasonable accommodations include:
Changing job tasks without removing the job's essential functions.
Providing a disabled employee with reserved parking.
Improving the accessibility of the employee's work area.
Changing the presentation format of job testing and training materials.
Providing specific products, equipment, or software.
Allowing the disabled employee to have a more flexible work schedule.
Reassigning an employee to a vacant alternative position within the company.
Changing policy to enable a disabled employee to work with their service animal.
Employers are only required to make reasonable accommodations that do not impose undue hardship, meaning they do not entail significant expense or difficulty in meeting the accommodation request. Undue hardship is decided on a case-by-case basis. Factors considered include the nature and cost of the requested change as it relates to the employer's size, resources, and nature of their operation.
It is important to remember that while the ADA manages accommodation requests pertaining to disabled employees, it is also possible for this type of case to arise concerning religious or spiritual practice. Reasonable accommodations in this regard may pertain to providing employees break times for required prayers, allowing them to attend specific religious services, or enabling them to refrain from partaking in employment functions that violate religious beliefs.
For these claims, employees must be able to demonstrate their beliefs are sincerely held, and while this type of claim would not strictly fall within the purview of the ADA's jurisdiction, failure to make reasonable accommodations for an employee's religious beliefs could lead to a discrimination lawsuit.
Potential Compensation for Failure to Accommodate in Santa Monica
Your Santa Monica failure to accommodate attorney can help file a complaint with the appropriate agency and hold your employer accountable for their actions. If you must file a claim with the EEOC, you have 180 days in which to do so, and the state DFEH provides a longer window in which to file state-level claims against smaller employers.
Once the EEOC or DFEH has investigated your claim and determined that your employer failed to provide a reasonable accommodation, they will likely issue you a Notice of Right to Sue that allows you to proceed with a civil suit against the employer. In some cases, these agencies will take direct legal action against employers who willfully violate the ADA or anti-discrimination laws.
A successful claim could compel your employer to provide the accommodation you originally requested. You may also be entitled to damages if you were unable to work and earn income or denied employment because of the refused accommodation. It may be possible for you to recover unpaid wages and lost benefits, and some claimants will be able to hold defendants accountable for their attorneys' fees.
When you choose the Law Offices of Miguel S. Ramirez to represent your failure to accommodate claim in Santa Monica, our goal will be to streamline your claim as much as possible and maximize your recovery. You could be entitled to more compensation than you may initially expect, including holding the defendant accountable for intentional infliction of emotional distress.
FAQs for Failure to Accommodate Lawyers
Q: What Is Failure to Provide Reasonable Accommodations?
A: It is illegal for any California employer to fail to respond in a timely and good faith manner to an employee's request for reasonable accommodations to account for their physical or mental health conditions. This same rule can apply to deeply held spiritual beliefs and religious practices, and the state provides some of the broadest protection for employee accommodations at work.
Q: What Does Not Qualify as a Reasonable Accommodation?
A: An employer is not legally required to remove essential job duties for an employee, create new jobs, or provide personal healthcare devices to an employee, such as mobility devices or eyeglasses. Reasonable accommodations include adjustments to a job, the employee's work environment, or adjustments to the employee's work schedule that account for the employee's needs.
Q: Is Denial of Reasonable Accommodation Illegal?
A: The California Fair Employment and Housing Act (FEHA) requires all employers with five or more employees to provide reasonable accommodations under the guidelines established under the ADA. Failure to do so can lead to legal penalties along with civil claims for damages from negatively affected employees.
Q: How Do I File a Failure to Accommodate Claim in Santa Monica?
A: An employer's failure to accommodate is technically a form of disability discrimination. It is possible to file a claim through the DFEH or the EEOC at the state or federal levels, respectively. Generally, the EEOC holds jurisdiction over all discrimination complaints against employers with 15 or more employees. Your Santa Monica failure to accommodate attorney can provide guidance for starting the claim filing process.
Q: What Does It Cost to Hire an Employment Discrimination Attorney?
A: If you intend to pursue a disability discrimination claim or any other civil action related to failure to accommodate, it is natural to have concerns about the potential cost of legal representation. Every employment attorney has a different billing policy; some offer hourly billing, while others can take claims for damages on contingency. Take time to review a potential attorney's billing policy before you agree to their representation.
The Law Offices of Miguel S. Ramirez has a long professional record of fighting successfully on behalf of disabled employees in all industries in the state. If your employer in Santa Monica has failed or refused to provide reasonable accommodations for your medical condition or disability, we can help hold them accountable. Contact us today to schedule your free consultation with a Santa Monica failure to accommodate attorney and learn how we can assist you.