Culver City Disability Discrimination Attorney
Under California law, a disability is a condition that limits one or more major life functions. In other words, the disability limits your ability to engage in activities such as seeing, breathing, walking, working, caring for yourself, reading, socializing, hearing, speaking, etc. Disabilities can be physical or mental as well as readily apparent or subtle. The condition must be long-standing or permanent to be considered a disability. Regardless of how your disability affects your life, or how it appears to others, you are afforded many protections in the workplace that defend you against discrimination.
If you believe that you have been subjected to discrimination in the workplace due to your disability, the Law Offices of Miguel S. Ramirez can help you create a case to ensure that your rights are protected. Our comprehensive legal team is skilled in interpreting and leveraging employment and discrimination law, a task our clients often find more difficult than expected due to the law's complexity. Employing the right Culver City, CA legal team can ensure that your employer is held accountable for their actions and that you receive the compensation you are owed.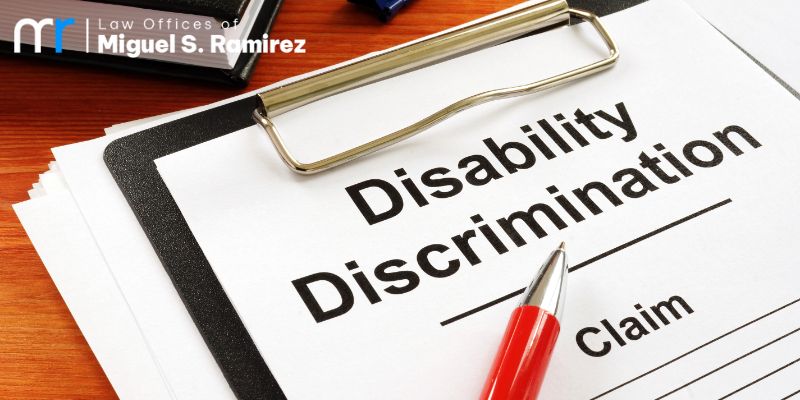 Disability Discrimination
Disability protections extend through every step of the employment process, including hiring, job assignments, promotions, training, and other job benefits. There are protections at both the federal and state levels:
Equal Employment Opportunity Commission (EEOC)
On the federal level, the EEOC administers and enforces civil rights laws pertaining to workplace discrimination. Disability discrimination occurs when an employer covered by the Americans With Disabilities Act or the Rehabilitation Act treats a disabled employee or applicant that is qualified for the position unfavorably due to their disability.
Fair Employment and Housing Act (FEHA)
State laws provide disabled applicants and employees with additional protections under the FEHA. These protections extend to more employers and include more protected classifications.
Employer Duty
One of the most significant responsibilities of the employer is to engage in a good-faith interactive process with disabled employees once they have been made aware of the disability. This process is meant to act as a constructive discussion that helps the two parties reach a reasonable and mutually satisfying accommodation that aids the employee in accomplishing the essential tasks of the position.
This accommodation should not cause undue hardship to the employer. The determination of what constitutes a hardship will vary between employers, but factors that are generally considered include:
The cost of the accommodation
The employer's overall financial condition
The structure of the business
If the employer refuses to participate in the interactive process, or participates only minimally, it can be used as evidence to support the discrimination claim. However, the employee will have no right to recover if they do not actively engage in the process, so maintaining documentation is important.
Disability Discrimination Examples
It can be difficult to distinguish whether you have been discriminated against due to California's at-will employment law, which allows an employer to fire an employee for any reason at all. There are, however, exceptions. For one, employers cannot fire someone for illegal reasons, such as for their disability. More common examples of disability discrimination are:
Refusal or failure to comply with Americans With Disabilities (ADA) policies
Refusal or failure to follow the California Family Rights Act (CFRA) or the Family and Medical Leave Act (FMLA)
Firing an employee who requested reasonable accommodations for their disability or medical condition
Not hiring an otherwise qualified employee because of their disability
Refusal to participate in the interactive process
Working With a Disability Discrimination Attorney
Unfortunately, navigating laws relevant to disability discrimination can be difficult, especially as you continue to live with your disability and any hardship caused by the discrimination. Understanding if your exact situation qualifies depends on many factors, which a disability discrimination attorney can quickly evaluate. This can save you time and likely money, as an attorney can help you determine your likelihood of success and potential outcomes if you are successful. Damages that you may be able to recover include back pay and lost income, reinstatement to your previous position, and even compensation for emotional distress.
FAQs
Q: What Is the Interactive Process for Disability Accommodations?
A: The interactive process is a good-faith effort between the employee and employer to find a reasonable accommodation for the employee. The process should start shortly after the employee makes their employer aware of their disability and the issues that they are having in their current position. Reasonable accommodations should eliminate or reduce these issues without causing undue hardship to the employer. An employer who fails to properly engage in this process can be held liable.
Q: Is Alcoholism or Drug Addiction Considered a Disability Under Disability Law?
A: Both alcoholism and drug addiction are considered disabilities under the law, and getting treatment for these conditions may be considered a reasonable accommodation. However, there are limitations. Being under the influence of drugs or being drunk during work hours, missing scheduled shifts, or consistently being late are not considered reasonable accommodations and can result in a legal termination.
Q: What Happens If I Am Retaliated Against for Filing a Disability Discrimination Claim?
A: One reason employees are hesitant to come forward with claims of disability discrimination is fear of retaliation from their employers. Your employer is acting illegally if they fire or punish you for informing your supervisor or HR that you have been discriminated against. A Culver City employment attorney can take legal action to prevent any retaliation and help you find justice.
Q: What Are the Potential Legal Remedies for Being Discriminated Against Based on Your Disability?
A: There are a number of damages that you can receive if your employer is found responsible for disability discrimination. They include:
Past and future lost earnings
Attorney's fees and court costs
Out-of-pocket expenses
Hiring/reinstatement
Policy changes
Reasonable accommodations
An experienced employment attorney can help you determine which remedies would most make you whole and which remedies your situation may qualify you for.
Fighting Against Disability Discrimination
It may seem daunting to accuse your employer of disability discrimination, especially if you believe that they will not be receptive to changing their behavior. The Law Offices of Miguel S. Ramirez focuses on employment law and can be a valuable resource as you head into a fight to protect your rights. Contact our Culver City office today for a consultation on your disability discrimination case.