Burbank Wrongful Termination Attorney
Hard work comes with any job. Performing that work to the best of your ability every day is probably a bar you have set high for yourself. You do it all so that you can earn a wage to support you and your family. Losing the job that you have worked so hard at can be devastating, particularly when the circumstances of the termination seem wrong or unjust. If you feel your employment rights have been violated because of a wrongful termination, you should speak with an expert employment lawyer. They can review the details of your termination and help you determine the best course of action in Burbank, CA.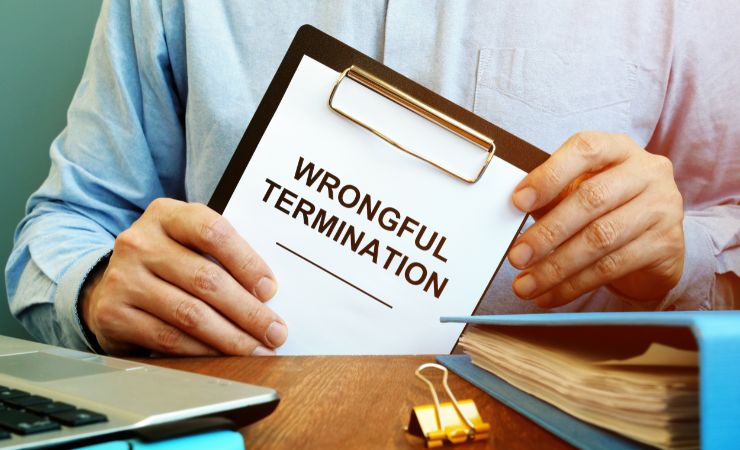 Wrongful Termination
California places a high value on employees, which is why they have very detailed laws that protect their rights. However, there are some laws that create ambiguity for both employees and employers. Since California is considered an "at-will" state, both employers and employees can terminate employment at any time for any reason. However, they can only do this if that reason does not violate other laws that protect employees.
Wrongful termination occurs when the legal policies protecting workers are violated. The policies, regulations, and statutes set forth in the employment laws protect workers from incidents of discrimination, harassment, and retaliation. An employee cannot be terminated due to:
Race
Gender
Age
Disability
Sexual orientation
Marital status
Any other protected characteristic
If this occurs, it would be considered discriminatory and illegal. Other examples of wrongful termination include:
You are fired after you bring your same-sex partner to a company function.
You become pregnant and are denied maternity leave or are terminated as a result.
Your religion practices a particular style of dress, and you are terminated for wearing it to work.
You reported an incident of sexual harassment, verbal harassment, or discrimination against you or another employee to your boss, and you were terminated as a result.
While these highlight a few examples of wrongful termination, there are many others that fall within the definition.
When you are hired, the agreement you make with your employer regarding the wages earned, the number of hours you are to work, the duties to be performed, and the training you receive becomes a legally binding protection against wrongful termination. However, if you are hired as an independent contractor, you are not protected by California law.
Wrongful Termination Laws
The state of California and the federal government have enacted several laws that protect employees from wrongful termination. To be considered wrongful termination, an employer must violate one of the following:
The Civil Rights Act of 1964: This provides employees with protection during the hiring, promoting, and firing stages of employment. It ensures safety from discriminatory acts based on race, color, religion, sex, or national origin.
The California Fair Employment and Housing Act: This implements a ban on any business practice that discriminates in advertising, applications, screening, and interviews; hiring, transferring, promoting, terminating, or separating from employees; working conditions, including compensation; training, apprenticeships, or in employee organizations and unions.
The Federal Age Discrimination Act: Employees who are 40 years of age or older are protected from discrimination based on age during hiring, promotion, discharge, compensation, or other terms, conditions, or privileges of employment.
Family and Medical Leave Act: Employees are entitled to up to 12 weeks of job-protected, unpaid leave per year. This protects them from losing their jobs due to medical issues.
California Family Rights Act: Like the federal leave act, this protects employees by providing them with up to 12 weeks of job-protected, unpaid leave to care for themselves or family members with serious medical conditions, including bonding with a newborn child.
Types of Wrongful Termination
Wrongful termination can be difficult to recognize because of the subtlety with which employers may terminate an employee. In many situations, they are knowingly breaking the law and therefore choose to justify the illegal termination through legal means. However, there are two classifications of wrongful termination that could help uncover the incidents when they occur. They are:
Mixed-motive termination: While an employer has the right to terminate employment for any reason, the reason must still be provided to ensure the termination is legal. In a mixed-motive termination, the employer has both a lawful and an unlawful justification for terminating employment. It becomes wrongful termination if the unlawful reason is more substantial.
Constructive discharge: Sometimes, an employer will try to force an employee out by creating intolerable working conditions. They may create unattainable deadlines or increase the workload to immerse the employee in a stressful situation. Because stress is a part of any job, employers are not bound by the law when raising expectations for performance. However, if the work environment is intolerable for other reasons, such as not providing you with the right tools for your job or turning off the air conditioner, you are protected from those situations.
Steps After Wrongful Termination
Employers will attempt to prove that your termination was justified by poor performance, workplace misconduct, or absenteeism. In order to successfully prove wrongful termination, you must prove that your employer falsely stated the reasoning for your termination and that the actual reason was illegal. The illegal reason must be motivated by retaliation, discrimination, a breach of contract, or a violation of public policy.
To do this, there are several steps you should follow:
Gather information: Evidence is the most important tool you have in any legal proceeding. Gathering evidence such as emails, text messages, videos, witness statements, or any other helpful documentation that could provide insight into your termination will help to build your case. While you may be upset after you are terminated, it will also be useful to sit down and document everything you can about your termination and the events leading up to it.
Get legal advice: Consulting with an expert employment attorney who can review your evidence will help you identify the best course of action to take.
File the claim: With the guidance of your attorney, file a formal claim against your employer at either the state or federal level.
FAQs About Burbank, CA Wrongful Termination Law
What Qualifies for Wrongful Termination in California?
Whenever an employer decides to fire an employee because of their race, religion, age, sex, or other protected characteristic, it is considered wrongful termination. To prove that you were illegally terminated, you must show that the stated reason for separation was invalid and that the actual reason is due to retaliation, discrimination, or harassment.
What Is the Average Wrongful Termination Settlement in California?
Because the circumstances of each case are different, the amount of the settlement can vary. The average recorded settlement for wrongful termination cases is less than $70,000. However, this number may not reflect the true scope of settlement amounts. Many wrongful termination settlements are confidential, and therefore this total is only based on the data that is available. Your employment attorney can help identify the potential settlement you may be entitled to.
How Long Do You Have to Sue for Wrongful Termination?
In California, you have up to two years to file a claim for wrongful termination or retaliation. This timeline includes claims for breach of oral contracts or allegations that your employer engaged in outrageous workplace behavior. If you are also going to file a claim for discrimination or harassment, that must be done within one year of the incident. If you are part of a union and your termination was a breach of your collective bargaining agreement, you have six months to file a claim.
How Do I File a Wrongful Termination Claim in Burbank, California?
The first step is to consult with an employment attorney. They will examine the specifics of your case to determine whether you should file at the state or federal level, depending on your industry of employment. Additionally, they will help you understand what you may recover through your claim.
Burbank Wrongful Termination Attorneys
Employment is a necessary part of life that allows you to earn a living to support yourself and your family. When you perform the duties of your job to the best of your ability, you want to know that you will be positively recognized and rewarded through fair treatment and appropriate compensation. When someone is mistreated because of their race, religion, sexual orientation, gender identity, age, disability, or any other number of protected characteristics, it can be painful. When that same mistreatment unlawfully costs you the job you rely on, it can be devastating and have a lasting impact.
At the Law Offices of Miguel S. Ramirez, we know how hard this can be. Our team of expert employment lawyers has the knowledge and expertise to help you through this difficult time. We can represent you and fight for the worker's rights you are entitled to. If you feel that you are the victim of wrongful termination, contact our offices today and let us help make it right. We always put your best interests first and treat your case as if it were our own.